Long-time VLAB Volunteer Michelle Tsing recently chaired a panel on the entrepreneurial community's favorite cocktail party conversation topic, the meteoric rise and rocky life of Initial Coin Offerings or ICOs. The panel "ICOs and the Token Economy: Disruption or Deception?", a sell-out event, took place on February 27 at the Stanford Faculty Club. The panelists agreed that the disruption that ICOs are causing is huge.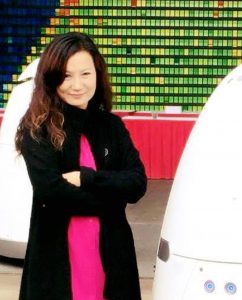 Tsing recently sat down with VLAB Blogger Michelle McIntyre to discuss the market that seems to be creating the most buzz right now, why she founded Robotics for Good, her experience working with other VLAB volunteers, her Laptop Radio Show recorded at Stanford University and philosophy on life.


Q: Do you think ICOs have a bright or dark future, or something in between, and why?
I am excited about the blockchain revolution. I believe we are at the beginning of it. ICOs definitely allow the revolution to be possible to allow folks who believe in the mission to be a part of it. Community is a big part of the ethos of decentralization (of the internet), which I believe is vital. It's not about the VC. It's more than the team and the product. It's the mission and an entire community behind that mission.

Q: Why did you decide to volunteer as a VLAB panel chair and how was that experience?
I have been a volunteer since late 2012. During a pitch meeting, I recommended a panel on ICO. And it happened: I became chair of "ICO and the Token Economy." Chairing it was a lot of fun. I was honored to work with a team of 12 devoted and seasoned VLAB volunteers who are like family to me. Everyone had everyone's back. Everyone used their talents and strengths to curate a valuable, thoughtful panel as well as sell out the event.

Q: What's your favorite emerging technology and why?
I'm in love with artificial intelligence especially convolutional neural networks (for computer vision); generative adversarial networks; and natural language processing. I founded Robotics for Good as I thought that as a society we want to talk about using AI for good. For the Loving AI Project, we are using AI to build loving AIs so we could help humans become more loving and aware. For Robots Without Borders, we are making AIs to help folks with education and humanitarian efforts. I am excited to see AI incorporated into the blockchain. That will be phenomenal.

Q: What's your philosophy on life?
I am excited about life and helping shape a higher consciousness.

Want to learn more about these topics?
To learn more about Michelle Tsing's Loving AI Project, which is really interesting stuff, listen to her Laptop Radio interview with Dr. Julia Mossbridge here. They discuss the Ph.D.'s motivation for working on the project, the true definition of unconditional love, self-transcendence, marriage, children, and a Hanson Robotics robot named Sophia.
Check the upcoming VLAB events here: https://www.vlab.org/upcoming-events/

###
This story was written by VLAB Blogger and PR Consultant Michelle McIntyre, @FromMichelle on Twitter. More stories and updates from VLAB: @VLAB