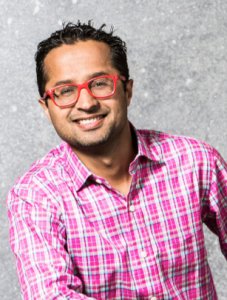 We're thrilled to welcome Bilal Zuberi, Partner at Lux Capital,  to our next event, "AR/VR: Where Virtual and Physical Worlds Converge," on Tuesday, October 18, 2016.VLAB event. Zuberi is passionate about bold ideas, disruptive innovation, and startups with technically ambitious solutions.
As an early-stage investor, Zuberi often leads investments that break new ground and solve real-world problems in areas such as security, air traffic management, and connected hardware devices. At Lux Capital, his investments include AltSpaceVR, a social platform for virtual reality; AirMap, an airspace data for drones; Desktop Metal, a metal 3D printing company; Evolv Technology, a physical security company; CyPhy Works, a drone maker; LensBricks, a smart home camera; and Orbital Insight, advanced image processing and data science.
Prior to joining Lux Capital, Zuberi was an investor at General Catalyst Partners, where he focused on investments in companies with deep technology & engineering focus, especially energy, medtech, and robotics. In 2004, he co-founded GEO2 Technologies, an advanced materials company, which later spun out Bio2 Technologies. He has also been a strategy consultant with the Boston Consulting Group and visiting scientist at PNN/DOE Labs.
Zuberi has a Ph.D. from the Massachusetts Institute of Technology not only studied under Nobel laureate, Professor Mario Molina, he also holds more than 30 patents and patent applications and has technical works have been published in peer-reviewed journals. Zuberi's long list of accomplishments also includes advising the Higher Education Commission of Pakistan, serving as a founding member of LUMS School of Science and Engineering, and promoting entrepreneurship at universities, conferences, and startup ecosystems. He currently serves on the Advisory Board of the Lemelson Foundation for invention and entrepreneurship.
Hear Zuberi's insights about the latest trends during the upcoming event on Tuesday, October 18, 2016, in-person at SRI International or via livestreaming.
---
Tanika Thacker moved to San Francisco four years ago to pursue and MFA in Creative Writing from the California College of the Arts. She started volunteering with VLAB to help with blogging and social media.